My childhood was one of wanderings, open spaces, and a great love for animals. I was a quiet, imaginative child who loved art, stories, and daydreaming.
After finishing school, I trained as a nurse in Brisbane and eventually went on to work in allied health. Life became a little crazy with work, marriage, mortgage, and children and it was many years before I could indulge my creativity. I started out mucking around with painting and mixed media collage. Then, one day, almost out of nowhere, poetry showed up and refused to leave.
What has followed has been an amazing, convoluted, at times perplexing, often confusing, wonderful but incredibly wild ride of fun, learning, discovery, experimentation, and evolution. I hope it never ends.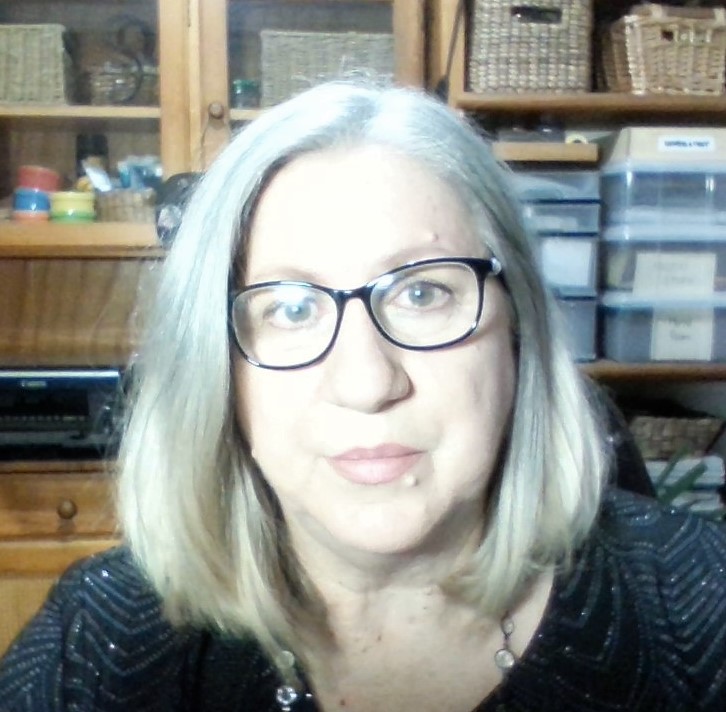 I first started writing poetry in 2011. In 2012 I started working on a collaborative project with my sister combining art and poetry. The exhibition was called A SENSE OF WONDER. I joined the North Pine Bush Poets in 2013 and concentrated my efforts on writing. Being a storyteller at heart, I was immediately drawn to ballads and narratives. I worked hard to understand the many nuances associated with metre. In 2014 A SENSE OF WONDER debuted and was an immediate success.  In 2015 I won my first written competition. From 2015 through to 2017  A SENSE OF WONDER toured parts of Queensland under our Five Towns, Five Regions project.
Since that time I have gained placings in many competitions. I have given readings of my poetry at exhibition openings, commemorative events, special functions, and poetry club meetings. I have held poetry talks and small workshops. I've had my work published in magazines, self-published books and been commissioned to write evaluations and special purpose poetry. Perhaps there is something I could do for you?
PUBLICATIONS
2022 BEYOND LAWSON – a collection of contemporary poems inspired by the works of Henry Lawson
2021 BRONZE SWAGMAN Book of verse
SPUR – the official magazine of the Australian Light Horse Association – December 2019 54rd Edition
2019 BRONZE SWAGMAN Book of Verse
MS LIFE magazine
THE AUSTRALIA TIMES magazine
E-muse magazine
Self Publications



2022 STORYTELLER – a book of 48 narrative poems, many of which are prize-winners. Handmade with an original artwork cover
2022 Paper Pieces – a collection of 45 short-form verses. Handmade with an original artwork cover
'Remembrance' – a small made-at-home War-themed poetry chapbook

2014 'A Sense of Wonder' extended poem (Story in rhyme)

'One Journey'- A reflection of Breast Cancer expressed in poetry (out of print)
'Bittersweet'- A collection of poetry (out of print)
ART
2019 October 4th – Annual South Burnett Art Competition in the Australian Poetry Theme section
2019 Silent Conversations -Stagedoor Gallery Redcliffe with MBAC
2014 'A Sense of Wonder' – Wondai Regional Art Gallery (A collaboration with artist Robyn Dower)
2012 'Bittersweet'- Wondai Regional Art Gallery (A combination of art and poetry)
GROUPS
Member of North Pine Poets Group
Member of ABPA (Australian Bush Poets Association)
Member of the MBAC (Moreton Bay Arts Council)
COMPETITIONS
Art
2019 Australian Poetry Theme section of the Annual South Burnett Art Competition – HIGHLY COMMENDED
Poetry
2022 – Silver Quill Bush Poetry competition – humorous section – SECOND PLACE
2022 Blackened Billy Bush Poetry Competition – HIGHLY COMMENDED
2021 Sutherland Shire Literary Competition – SECOND PLACE
2020 Ipswich Poetry Feast Competition – HIGHLY COMMENDED
2020 Sutherland Shire Literary Competition – HIGHLY COMMENDED
2019 Bronze Swagman – Winner of the Tim Borthwick Memorial prize
2019 Blackened Billy Verse competition – Tamworth – HIGHLY COMMENDED
2018 Silver Quill Poetry Competition – Tooday, WA – Serious – HIGHLY COMMENDED
2018 Silver Quill Poetry Competition – Tooday, WA – Humorous – HIGHLY COMMENDED
2018 Bette Olle Poetry Award – Kyabram – HIGHLY COMMENDED
2018 Bronze Spur Award – Winton – SECOND PLACE
2017 Blackened Billy Verse competition – Tamworth – HIGHLY COMMENDED
2016 Ipswich Poetry Feast – International Writing Competition – Open age – Bush Poetry – HIGHLY COMMENDED
2016 Bundaberg Bush Lantern Written competition – HIGHLY COMMENDED
2015 Ipswich Poetry Feast – International Writing Competition – OVERALL WINNER – Open Age
2015 Ipswich Poetry Feast – International Writing Competition – Open Age – Bush Poetry – FIRST PLACE
2015 Camp Oven Festival – FIRST Intermediate Original Male/Female (Performance)
2015 Bundy Bush Poetry Muster Queensland championships – Bundaberg Bush Poets – SECOND (Intermediate) for performance poetry.
2014 Camp Oven Festival –THIRD (Intermediate) for performance poetry
2013 Camp Oven Festival –FIRST (Novice) for performance poetry
 PUBLIC PERFORMANCES

August 2020 – Reading of original poems with North Pine Bush Poets at  the Caboolture Regional Art Gallery
August 2020 – commissioned by Caboolture Regional Art Gallery to write an original short poem inspired by the Robert McPherson exhibition – Boss Drovers
August 24th 2019 Ballina cenotaph – reading of THE PACT and reading of THE STOCKMAN'S CHOICE at the Australian Bravery Association dinner.
June 7th, 2019 – Poetry reading of THE PACT at Wondai Art Gallery exhibition opening of WAR AT SEA 
April 25th, 2019 – Poetry reading of THE STOCKMAN'S CHOICE at the Sandgate Anzac service
August 2015 – unveiling ceremony of Anzac Memorial at Deception Bay
June and July 2015 – St Martins Nursing Home, Taigum
April 2015 –'Letters from the Front' performance with 'Versatility' at Sandgate under the auspices of the Sandgate RSL sub-branch
April 2015 – the 100-year commemoration of Anzac at Sandgate with 'Versatility' under the auspices of Sandgate RSL sub-branch