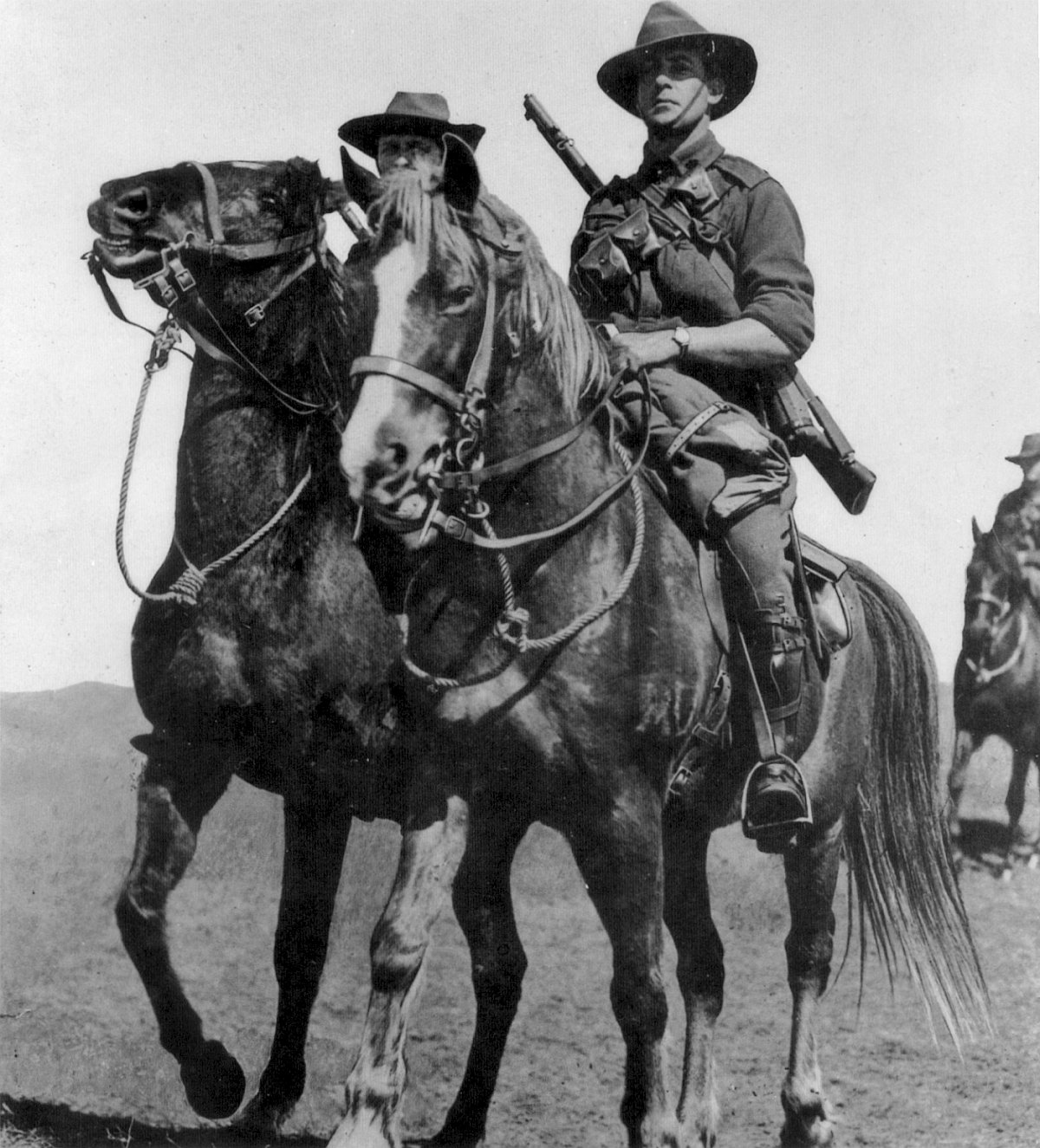 Image: Public Domain – Australian Light Horse
This poem was inspired by the story of SANDY, the only horse of some 130,000 sent overseas during WWI to ever return to Australian shores. I tried to keep this story as close to the facts as I could. It is from a series of poems I wrote about animals at war…
ONLY ONE RETURNED
The old horse waits
at the re-mount gates
where the vets are standing by.
His legs are frail and his eyes are dim
but he lifts his head up high.
The time has passed
on its ceaseless march
since the early days of war
when years ago, in his eager youth,
he had stood here once before.
A big boned bay with a tiny star
and a height of sixteen hands,
he'd been the pride
of O'Donnell's farm
and was born upon their lands.
He'd spent his days
on the highland plains
where the Bogong moths would fly
and eagles soared
by the mountain peaks
and the Murray danced nearby.
He carted bricks in Tallangatta
on a back both young and strong
then given free to the army's call
and the battle's endless throng.
Once standing proud
in these army yards
on a Melbourne afternoon
he drew the eye of the commandant
and the founder of Duntroon.
With Major General
Sir William Bridges
a farm horse went to war
and crossed the seas to a stony beach
where the major strode ashore.
But room was scarce
on that Anzac cove
and the horses stayed behind
to later sail to the desert lands
and from there be re-assigned.
The hills were steep
and the Turks dug deep
up above the crowded beach
A bullet arced and it found its mark
with the Major in its reach.
He later died on a mercy ship
but his body sent in June
to rest in peace on his homeland soil
in the hills above Duntroon.
But wheels were turned for the safe
return of the major's favoured horse.
It took some time with the paperwork
but they set his homeward course.
He served that time
with the vets' advance
where he helped to aid the sick
and nearly lost to the mounting costs
when the mustard gas blew thick.
But only he who had been to war
had been granted passage home
to live his life on a grassy patch
with the pasture's length to roam.
The rest were left to uncertain fates
and depended on a score
while men were left with the deep
disdain for the senselessness of war.
…………………………
The old horse waits
at the re-mount gates
and prepares his last goodbye.
His legs are frail and his eyes are dim
but he lifts his head up high.
He snuffs the air with a parting snort
as he pricks his weary ears
and paws the ground
to the silent sound
of the echoes that he hears.
They gather now
on the highland plains
and the bogong moths take flight.
The Murray leaps from the riverbeds
where the mountains catch the light.
The horses charge
down the valley sides
from the ghostly times long past,
the thunder roars
and the eagle soars –
Sandy runs with mates at last.